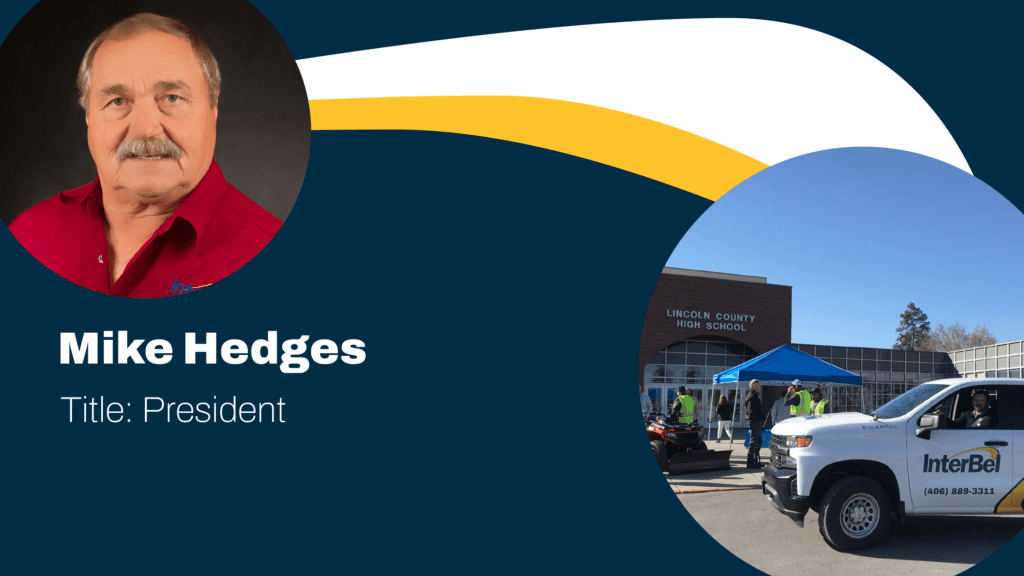 President Mike Hedges
The InterBel that Mike Hedges now helps lead is a far cry from the cooperative of his childhood
Mike's father relocated his family to Eureka, Montana in 1962, when he was hired as the first superintendent of InterBel Telephone Cooperative. While his father was trusted with leading a brand-new cooperative, his son, Mike—just ten years old at the time—was also given a very important job. 
"My dad didn't like crawl spaces," Mike said. "So he used to make us kids wire the houses, and we would crawl into these little tiny crawl spaces and pull the phone lines for him."
Other than pulling phone lines and assisting the crew after outages, Mike lived the typical northwest Montana childhood: hiking, fishing, hunting, and just enjoying the freedom of the great outdoors. He enlisted in the military shortly after high school graduation, and after 20 years of service, he knew right where he wanted to be.
"With the service, I was all over the world, but there's probably not a nicer place than right here," Mike said. 
Today, Mike is enjoying his retirement here in Eureka—though he's far from done working. He still assists his daughter and son-in-law with their local business, Eureka Hardware, from time to time. And for the past several years, he has served as the President of InterBel's Board of Directors.
The InterBel that Mike now helps lead is a far cry from the cooperative of his childhood. He has seen our team grow, our service territory expand, and our technology advance in once unimaginable ways. 
"In the early days they had one full-time employee and two half-time employees, and they were sharing managers and bookkeepers with Lincoln Electric," Mike said. "So we've come a long way as a cooperative."
"We're not here to make a profit. We're just here to serve."
Among the most exciting changes Mike has witnessed in his many years with InterBel is the transition to fiber optic internet. When his father joined InterBel in 1962, the cooperative was just beginning to run bare wire so that the community could access party lines. Today, we are equipping the entire town of Eureka and our surrounding communities with fiber—enabling speeds up to 100 Mbps and ensuring that our members are more connected than ever before.
"I think what InterBel is doing for this valley with the fiber is just unbelievable. It has opened up the world to us and given new opportunities for the big city folks to come out here and work remotely," Mike said. "Without the fiber, that wouldn't be an option." 
While much has changed since Mike's early days of pulling phone lines, the thing he loves most about InterBel—our strong cooperative spirit—has never wavered. From funding student scholarships to digging fiber out to our rural residents, InterBel has continued to put the needs of our members first. Not because it's the most profitable way to operate, but because it's the right thing to do. 
"It would never survive in a business case, because you are never going to collect enough revenue. But that's what I like about co-ops. It's really about taking care of the community," Mike said. "We're not here to make a profit. We're just here to serve."
For Mike, being on InterBel's Board of Directors isn't just a matter of staying involved in retirement or supporting the cooperative financially. It's about family: continuing what his father started, and giving back to the community that has given him so much.
"I have a lot of positive memories with InterBel back in those years," Mike said. "I was part of the family as a young kid, and now I have the opportunity to pay it back."
"I was part of the family as a young kid, and now I have the opportunity to pay it back."