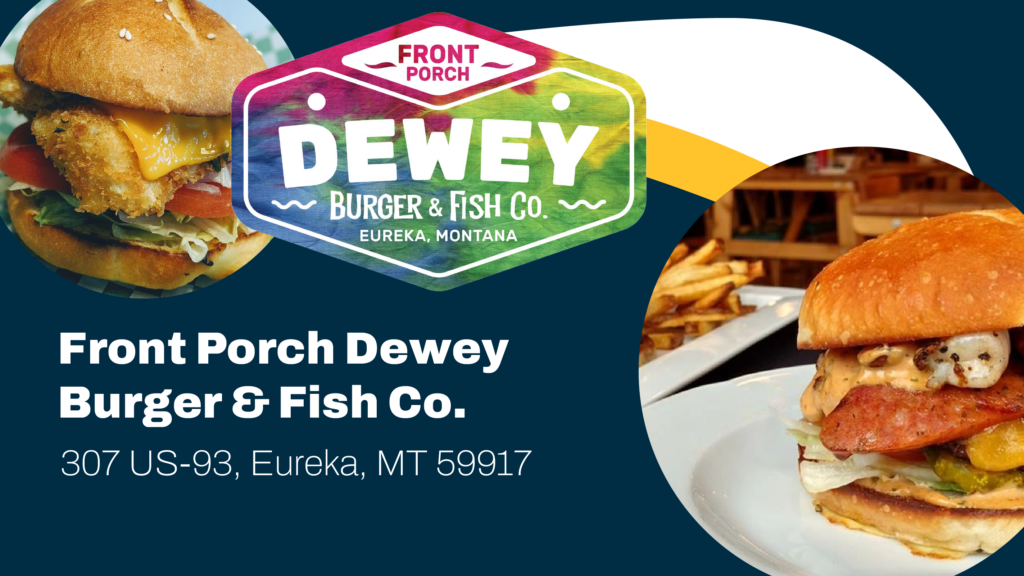 Front Porch Dewey Burger & Fish Co.
A burger put Front Porch on the map, and the service keeps customers coming back
In 2009, Eureka, Montana made national news for one unexpected (and delicious) reason: a hamburger. 
Jim Monroe's Eureka "Bubba" Burger—featuring spicy Cajun sausage, jumbo shrimp, chipotle sauce, and cheddar cheese atop a hand-pressed patty—was voted the best burger in the nation on the Ultimate Hometown Grill Off, sponsored by the television show "Live! with Regis and Kelly."
That burger, concocted from leftovers thrown together after a long day, became a permanent fixture on the menu at Front Porch Dewey Burger & Fish Co., which Jim owns and operates with his wife, Andi. It has had foodies from across the country flocking to the little town of Eureka for more than a decade; it also caught the attention of a few very important people all the way in Washington, D.C. 
In 2017, eight years after the "Bubba" Burger first made headlines, Jim and Andi received an unexpected phone call with a request to serve their famous burger at a reception following the lighting of the Capitol Christmas tree.
The Monroes made the trek to D.C. that December to serve their award-winning burger to a crowd of more than 300. They also offered attendees a more recent addition to the menu: the Montana Huckleberry Burger, topped with cheddar cheese, jalapenos, huckleberry jam, bacon, and a scoop of huckleberry ice cream.
"As crazy as the burger sounds, it is surprisingly delicious," Andi said. 
And diners agree. The Huckleberry Burger has since become one of Front Porch's most popular menu items, even tying in the Whitefish Burger Battle for People's Choice.
"As crazy as the burger sounds, it is surprisingly delicious."
More Than the Menu
All of the positive press is unsurprising for the locals who have enjoyed dining at Front Porch over the years. With Jim's long culinary history and Andi's years in customer service, they've created an environment that keeps customers coming back. They go above and beyond to ensure that every item on their menu is of the highest quality: using fresh ingredients, hand-pressing their burger patties, even baking their own rolls and buns from scratch. 
And these days, running a successful restaurant is about so much more than the food. Jim and Andi know that today's customers, whether they come from down the street or across the country, expect to be able to access the Internet as they eat. Luckily, the Monroes don't have to look far for high-speed, reliable Internet; InterBel's headquarters is right across Dewey Avenue from their front door.
"Every single InterBel employee we interact with is always friendly, professional, and actually cares about the quality of service received," Andi said. "Our Internet service has been terrific. 80 percent of our customers are using some type of Internet during their stay in our establishment. Everything has been running smoothly with no interruptions in service for our customers or restaurant food ordering."
In addition to offering Wi-Fi for every customer who walks in their doors, with fiber from InterBel, Front Porch is able to stream simultaneously on four televisions throughout the restaurant. They also utilize a tableside ordering system, allowing customers to order and pay on an iPad and experience reduced wait time. 
With a Voice Over Internet Phone (VoIP) system, customers can call in and have most of their questions answered without needing to talk to a real person, allowing staff to spend more time helping guests in the restaurant. This time-saving technology has proven especially helpful as Front Porch has navigated the changing tides of the COVID-19 pandemic. 
"In these times, anywhere we can ease pressure on the staff we have is a true blessing," Andi said. "These upgrades allow us to concentrate on providing quality products consistently."
"In these times, anywhere we can ease pressure on the staff we have is a true blessing."
Good Food, Great People
A hamburger may have made Eureka a culinary destination, but residents like the Monroes agree that it's the people who make it a great place to live. 
"Our town is so unique in that it is always there for their people. Coming together is the town's superhero quality. Looking out for each other is the norm here," Andi said. The waves of hellos, the 'have a nice days' while walking down the street…Who wouldn't want to be a part of that?"
The community of Eureka has rallied around Front Porch, cheering them on through all of their awards and acclaim. InterBel is proud to support Jim and Andi Monroe, whether it's by providing the high-speed Internet they need to operate their business, or simply by walking across the street to enjoy a burger.  
"We like having a local provider. They enjoy our food and use Internet service while in our establishment. If there is a problem, they are right there to help out," Andi said. "It is great to have neighbors across the street that have the same goals and intentions for our wonderful community." 
Front Porch Dewey Burger & Fish Co. is located at 307 Dewey Ave. in Eureka, Montana, directly across the street from InterBel Telephone Cooperative. Stop in to try one of their famous burgers or delicious seafood dishes! More information and online ordering is available at frontporchgrillhouse.com.
"Coming together is the town's superhero quality."