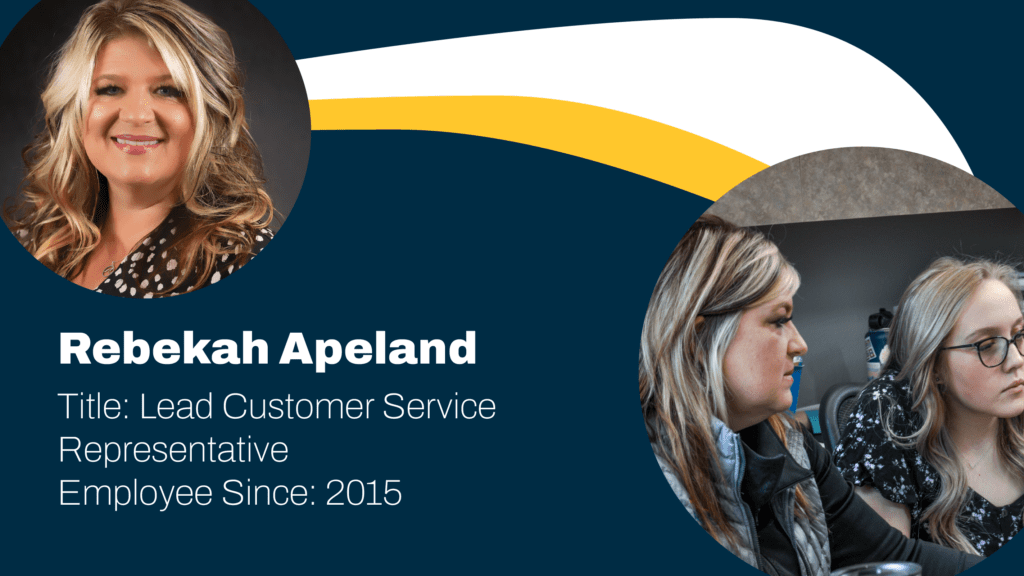 Rebekah Apeland
Title: Lead Customer Service Representative
Employee Since: 2015
Whether she's working in cosmetology or customer service, Rebekah Apeland has learned that her true calling lies in connecting with people. 
"I love what I do because of the people," Rebekah said. "I love meeting new people, working with them, and hearing their stories."
And the people love her in return. As Lead Customer Service Representative at InterBel Telephone Cooperative, Rebekah is one of the first faces that customers see when they walk through our door, and the first voice they hear when they call in for support.
"Everyone is just friendly with each other here in Eureka," Rebekah said. "It's like a family."
Eureka hasn't always been home for Rebekah. She grew up in Portland, Oregon–a far cry from the rustic scenery and familial feel of northwest Montana. But when her husband, a Eureka native, retired from the Marine Corps, he craved the comforts of home. 
So 24 years ago, the Apelands made the move. 
"It was a huge decision to move to a small town that, back then, didn't have all the conveniences of a larger city," Rebekah said. "But we made friends quickly, and it just became home. It's a neat town. It's very unique. I like the slower pace of life. It felt like a safe place to raise our kids." 
"Everyone is just friendly with each other here in Eureka. It's like a family."
Rebekah adapted quickly to the Eureka way of life. She was able to raise her three children in a safe, welcoming community where they could participate in a variety of activities, like sports and 4-H. She has embraced the many outdoor activities our stunning landscape has to offer, from floating the river in the summer to snowmobiling in the winter–though she admits to preferring the warmer months.
"Summer here in Eureka is our reward for putting up with the winter," Rebekah said.
After moving to Eureka, Rebekah pursued potential careers in pharmacy and cosmetology before joining the InterBel team in 2015. From her first role as a cashier to her current position as Lead Customer Service Representative, Rebekah is proud to be a part of InterBel's mission to equip rural communities with high-speed fiber-optic internet.
"Bringing fiber to this area is huge because we are so rural," Rebekah said. "A lot of people are moving here from the larger cities and are able to work remotely. They can do whatever they want, right from here." 
And of course, it all comes down to serving the people. One of Rebekah's favorite memories from her time with InterBel is the annual Parade of Lights, when the entire  team dresses up in a theme and works together to decorate a float. 
"We love the community, and we are proud to show it by supporting our schools and participating in local events," Rebekah said. "We are always a presence, whether it's walking in parades, having a booth at the fair, or giving scholarships to the kids."
Advancements like fiber-optic internet may draw people to move to Eureka, but Rebekah is sure that it's the people that will make them stay–just like she did. 
"I believe in Interbel, and the fact that others are moving here means that they believe in InterBel too," Rebekah said.
"I believe in Interbel, and the fact that others are moving here means that they believe in InterBel too."