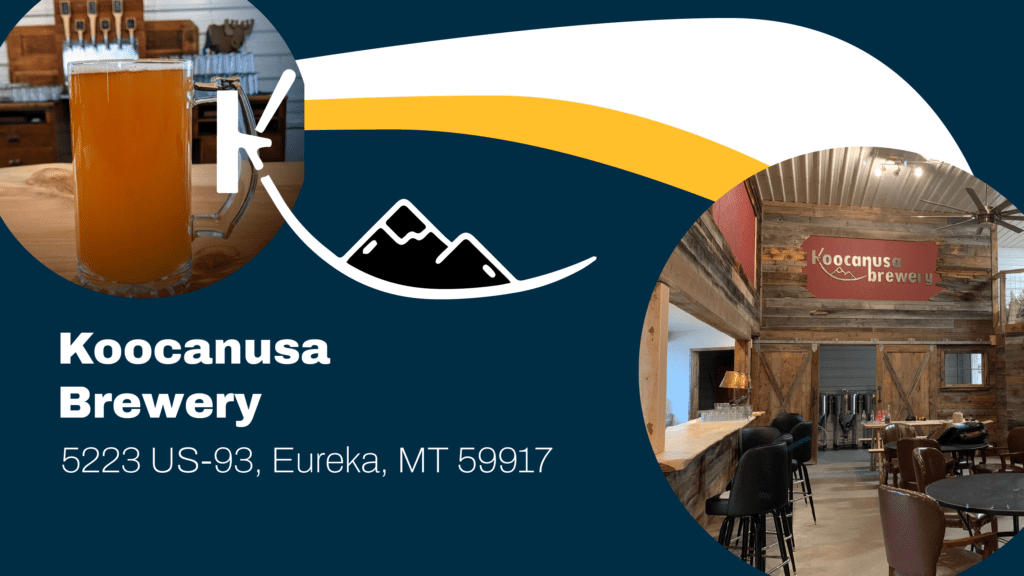 Koocanusa Brewery
From a government shutdown to a global pandemic, Koocanusa Brewery has overcome every obstacle
There are a few common reasons someone may choose to start their own business. For some, it's to fill a need in their community; for others, it's to carry on a legacy.

For Barry Roose, inspiration to open Koocanusa Brewery came from a very different source.
"Insanity," Barry claimed.
When Barry purchased 85 acres of land just outside of Eureka, he had no idea what the land—and the old metal building that occupied it—would become. Then his cousin came up with an idea.
"I was asking him, 'What do you think I should do with the building'"? Barry recalled. "He said, 'Oh, start a brewery.' I said, 'What? I don't know how to brew beer.' He said, 'Do it. People will come, and you'll have a fun time.' So, we did."
"Our wetlands are the kidney of our watersheds."
Against All Odds
As a retired project manager who didn't know the first thing about operating a brewery, learning how to brew beer was only the first hurdle that Barry had to jump in his journey to owning a business. 
The property that Barry acquired had formerly been occupied by three different sawmills. In 1973, when the final sawmill ceased operations, all of the buildings, concrete, and residual trim logs were bulldozed into the wetlands. As a fourth-generation Eurekan, Barry was disturbed by the lasting effects this demolition had on the land and the creek that runs through it.
"Our wetlands are the kidney of our watersheds. They work to filter and purify the water, and our water that runs through there had lessened dramatically—that's why it is called Mud Creek," Barry said. "When the Creek was in this condition, the wetland was impaired from working as it should. My family, friends, and neighbors live downstream from there and I felt it very, very, very important to be a contributing part to good water."
Over the course of four years, with support from local and national organizations like the Lincoln Conservation District, the US Natural Resource Conservation District, Kootenai River Network, and contractor River Design Group, Barry was able to remove more than 68,000 pounds of steel and restore a portion of Mud Creek to its original, pristine condition. 
With the land and water quality revived, Barry could finally move on to permitting and opening his brewery. He submitted his application to the Alcohol and Tobacco Trade and Tax Bureau in January 2019. Then, the federal government shut down, delaying his application for 100 days.
"We had hoped to be open in the summer of 2019, but because of the federal shutdown, we were postponed until final approval in October of 2019," Barry said. "Then I had to brew beer and get inventory built up to open."
The delays didn't deter Barry. On December 14th, 2019, all of the hard work and patience finally paid off as Koocanusa Brewery opened to the public. With open arms, pizza, and six beers on tap, Barry and his partner Vicki welcomed the community of Eureka into the business they'd fought so hard to build.
Then, Koocanusa Brewery was faced with its greatest hurdle yet: the COVID-19 pandemic.
"We were open 60 days and then we had to close for 60 days," Barry said. "Then we ran the rest of the year at either 50 or 75 percent occupancy."
Even the most established businesses have struggled to stay afloat throughout the pandemic, especially in the food and drink industry. It would have been all-too easy for a brewery that had hardly had the chance to open before the virus hit to close its doors for good, but thanks to a supportive community of customers and Barry's trademark optimism, Koocanusa has prevailed. 
"The challenges have been wide and deep, but for the most part, I would just say that entrepreneurial activities come with risks," Barry said. "When you accept the risk of doing something, you just do it and you don't worry about the costs. You get up, you go to work, you adapt to change, you do everything you can to make it work. And at the end of the day, you celebrate small successes and build on them.
For Barry, success isn't measured in the number of barrels he produces or the dollars he brings in every night; it's measured in the relationships he builds with the people he serves.
"That's why I do this, because of the people that I get to see and the enjoyment they get from our product," Barry said. "Being a fourth generation Eurekan and intimately familiar with the area, I love when people come in and say, 'Well, gee, where can we go hiking, fishing, camping, skiing, waterskiing, tubing?' Those conversations and being able to share my knowledge with them, that's probably the most fun part."
"We were open 60 days and then we had to close for 60 days."
Good Beer and Great People
Barry Roose has overcome countless challenges to get to where he is today: owning a microbrewery that's popular with locals and tourists alike, located on land that he has worked tirelessly to preserve. But through it all, there's one thing he says he has never had to worry about: his Internet connection. 
"InterBel has some incredible, powerful, wonderful fiber," Barry said. "Fortunately we're en route from Seattle to New York, not far off the main grid that runs East to West. So we have tremendously quick response times on the Internet. That infrastructure that InterBel provides is a critical tool for any developing area like ours." 
At Koocanusa, a reliable Internet connection is about more than just processing credit card transactions in a timely manner. Due to the building's metal walls, customers are unable to access cellular data at the brewery. Instead, they can sign on and enjoy the high speeds of Koocanusa's Internet connection. 
Barry says this is a major draw for many customers, whether they want to watch the Super Bowl or work remotely while enjoying a pint.
"InterBel's service allows us to provide our customers reliable high-speed Internet access, the likes of which you can't find too many places in the country," Barry said. 
Starting a business is never easy, and Barry has overcome more obstacles than most. But with high-speed Internet from InterBel, and maybe a little bit of insanity, Barry has built a business that he and his customers can enjoy for many years to come. 
"We've got great beer, a warm atmosphere, and a country setting. We're unique, eclectic, funkadelic," Barry said. "And you know, we're just a couple local people that enjoy serving and enjoy your company and enjoy providing good beer."
Koocanusa Brewery is located 5 miles south of Eureka, Montana, on US Highway 93. Stop by for a good beer and great conversation, and visit their website www.koocanusabrewery.com to learn more.
"InterBel's service allows us to provide our customers reliable high-speed Internet access, the likes of which you can't find too many places in the country."