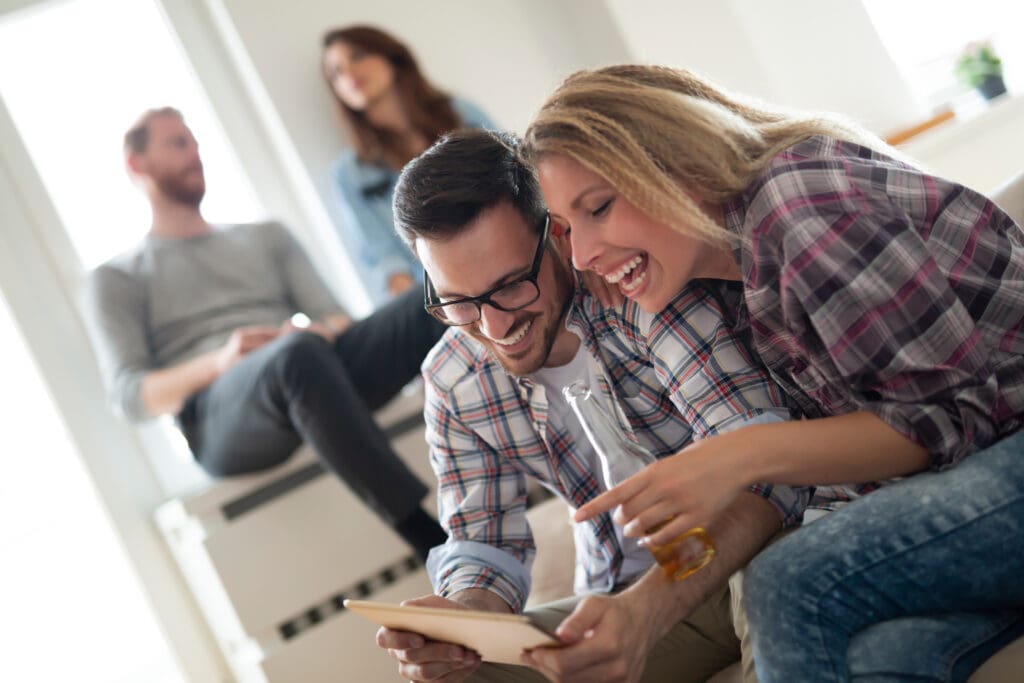 Leave the Landline Behind
With new Broadband Only packages, you'll only pay for what you'll use
Ahh, the good old days: when you'd listen through the door of dad's home office and wait for the exact moment the phone clicked back into its base. With the telephone line finally available you'd run to the family computer, throw yourself into the rolling chair, and sit through the obnoxious dial-up noise—all to send one AOL Instant Message to your friend down the street.
We've come a long way since then. Now dial-up has given way to broadband, all of our messages are instantaneous, and more and more households are forgoing landline phones all together. That's why, at InterBel, we've launched Broadband-Only packages to meet your modern needs. 
Starting with our Fiber 100 package, you can choose to pay for only what you need: high-speed, reliable broadband. These packages are ideal for businesses and households that require a lot of data, for multiple HD or 4K video streams, for example, but who do not find themselves reaching for the landline anymore. 
And starting at just 100 dollars for 100 Mbps, our Broadband Only packages are the most cost-effective we have to offer—especially for customers suddenly in need of higher bandwidth.
"It's a great choice for people who consume a lot of content online, especially folks who are now working or have kids doing school from home," said InterBel General Manager Jason Moothart. "If a family has three kids and they're all doing homework, they're all streaming their classes online, they may never use their landline but they are probably going to want to increase from 25 megabits to 100."
Since we launched this service in July 2019, more than 500 of InterBel's 3,600-plus members have already made the switch to Broadband Only packages. And for many new members who have recently relocated to our community, Broadband Only is a natural choice.
"Starting at just 100 dollars for 100 Mbps, our Broadband Only packages are the most cost-effective we have to offer."
When Telly Stanger moved to the Eureka area from the Denver, CO metro last year, he was amazed to learn that the little town of under 2,000 people was in the midst of a fiber build-out. 
"I don't know that people expect to see fiber-to-the-home in communities like this," Telly said. "There are major metropolitan areas that don't have fiber-to-the-home. So coming to a rural community like this, where you go back five miles in the woods and there's 10 houses and they all have fiber, that's amazing."
When Telly and his family moved into their new home in January 2020, fully equipped with fiber, they selected a Broadband Only plan right away. 
"It just fit the needs of our family. Like most people, we've gotten away from having a landline," Telly said. "My wife and our kids all have our cell phones, our home computer, our television, and that's all through broadband."
But a brand-new fiber optic line is only worth it if it works. And for Telly, the speed speaks for itself.
"We've had very few issues with our broadband. I don't even think it's buffered one time," Telly said. "I haven't run one speed test since we moved in. As long as it works, I'm happy."
From dial-up to broadband, Instant Messenger to Instagram, the technology we use to communicate is constantly evolving. Here at InterBel, Broadband Only packages are just the next step in that evolution. And don't worry—we understand that some folks still rely on their landline, so we're not getting rid of our phone service any time soon. It can be added on to any package, all the way up to Fiber Gig. 
"I liken it to this: there was a carburetor shop on every corner in every town until fuel injection happened," Jason said. "Now there might be one carburetor shop in an entire town, but it's a specialty thing. Broadband may be taking over, but dial tone phone service will still exist, and we will continue to serve those who choose to use it."
Ready to leave your landline in the past? Call InterBel at 406-889-3311 or visit www.interbel.com to sign up for a Broadband Only plan today.
"Coming to a rural community like this, where you go back five miles in the woods and there's 10 houses and they all have fiber, that's amazing."